Operations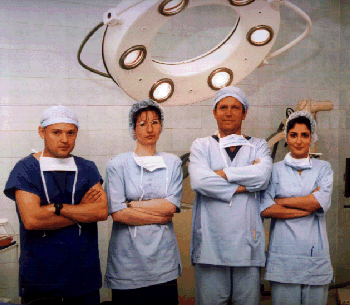 Out-patient Operations

Alterations to the skin and epidermal tissue, hand and toe operations and inflammatory complaints,
are safely and painlessly carried out under local anesthetic.


One-day Surgery:

Patients judged to be in adequate health my undergo operations during short stys in hospital. These
operations are so commonly practiced that the likehood of complications occurring is less than one in a
thousand. In the Sziget Sanatorium these operations are available for the following:
hernias
varicose veins
hemorrhoids and anal fistulas
breast and anal fistulas
operations on the thyroid
Operations on the vagina, testicles prostate and penis may also be completed with in 24 hours.

One-day surgery may only be carried out on healthy patients (excluding the complaint requiring treatment). For this reason, all patients applying for such treatment must first undergo a full screening
test, which will determine not only the health of the individual but also the intervention required.


Weekend surgery:

Patients wishing to undergo one-day surgery out working hours may arrive at our institute by 10.30 on
a Friday. After full testing and to resume their accustomed duties on Monday with no perceptible
symptoms or complaints.


In-patient Care:

Following an operation patients may wish to receive processional nursing care and personal service for
an extended period of time. Our in-patient care may also be used sanatorium cures.


Out-patient Care:

The Sziget Sanatorium will be glad to address specific complaints and illnesses. Aphysician, surgeon,
vascular surgeon, proctologist (specialist in complaints of the rectal area) urologist and gynectologist
are available to receive visitor and patients by appointment from 9.00 to 17.00. Consulting takes place
with the aid of a fully equipped laboratory, X-ray facilities and ultrasound.


Special Consulting:

Our institute has ability to consult with renowned and experienced specialists in the areas of:
ophtalmic surgery
ear, nose and throat
traumatology
orthopedics
rheumatology
dermatology
We also offer complex infertility testing and treatment.


Nursing:

We provide experienced nursing care for the following:
menopausal osteoporosis
breast and prostate observation (including ultrasound, cytology or laboratory testing)
impotence treatment
the continous treatment of diabetics and those with disorders of the lipid metabolism, colitis or
enteritis.